Overhead Door Corporation is discontinuing the legacy wireless keyless entry, model OWKP-BX (part #35282S).
It is being replaced by a newly designed wireless keyless entry, model OKP-BX (part#37225R). The features of new keyless entry include:
Code Dodger 2 technology. It is also compatible with all Overhead Door Code Dodger 1 garage door openers
It can operate up to three Overhead Door Code Dodger garage door openers.
Auto-seek dual frequency technology automatically transmits in both 315 and 390 MHz to minimize possible frequency interference related to consumer electronics or nearby government bases (Code Dodger 2 openers operate on 315 or 390 MHz)
Temporary PIN codes to allow for one time special access needs.
Uses standard AAA batteries
The newly designed keyless entry also can be ordered in four different colors: White, Gray, Tan and Almond
The old style Overhead Door wireless keyless entry is still available while supplies last at www.OverheadDoorPartsOnline.com.
You can also find replacement keyless entry covers and replacement battery covers for the old style keyless entries at www.OverheadDoorPartsOnline.com.
The new keyless entry is also available to order at www.OverheadDoorPartsOnline.com. Parts numbers are listed below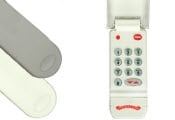 Description Model Part Number
Keypad OWK-BX 37225R
White Cover OKPCW-BX 37227R
Gray Cover OKPCG-BX 37227S
Tan Cover OKPCT-BX 37227T
Almond Cover OKPCA-BX 37227U