Durafirm Collection Offers a Maintenance-Free Garage Door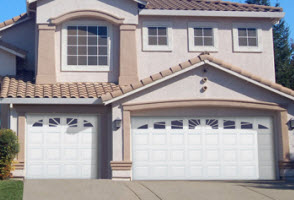 Active families seeking protection from garage door dents and scratches, look no further. The Overhead Door Durafirm Collection delivers exception strength, durability and thermal efficiency.
The Durafirm model #870 offers a vinyl exterior to protect homeowners against door panels peeling, flaking, chipping or cracking.
Color is applied all the way through the door, so the need for touch-up paint for scrapes and scratches is eliminated. Additionally, the rich, wood-grain embossing provides an attractive look from the outside, with a finished backing on the inside.
The doors light-weight, yet durable, construction reduces operation noises. The foamed-in-place polyurethane insulation is CFC-11-free, making the door environmentally friendly, and blocks street noise from entering living areas. Families can also benefit from thermal efficiencies through increased insulation, giving them a cooler garage in the summer and a warmer garage in the winter.
The Durafirm model #870 is available in white, sand, grey and cream with window designs that enhance the doors' appearance. Windows are 1/8" double strength and are available in insulated or non-insulated and clear or privacy glass. Insulated etched glass designs are also available.
For more information, please visit www.OverheadDoorOnline.com
Overhead Door Company of Northern Kentucky is an authorized Overhead Door distributor servicing the Greater Cincinnati and Northern Kentucky communities for over 64 years.
Click here to schedule a sales call to replace your garage door or garage door opener.
Information provided by Overhead Door Corporation