Garage Door Opener and Garage Door Solutions to Common Issues from Overhead Door Company of Northern Kentucky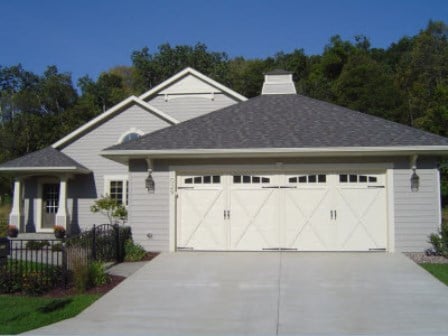 Your garage door opener is one of the hardest-working appliances in your home, and should be one of the most dependable as well. If you're experiencing an issue with your garage door opener or garage door, it's critically important to address it quickly for safety reasons as well as for home security. In Anderson, Loveland, Hyde Park, or any other Greater Cincinnati neighborhood, Overhead Door Company of Northern Kentucky can help you quickly solve the problem and get your garage door opener functioning smoothly again.
Two of the most common garage door issues we see are the garage door not closing or not opening. Here are common causes of these issues, and tips for how to fix them, fast as well as when to call a professional. For professional garage door help in Cincinnati and Northern Kentucky, contact Overhead Door Company of Northern Kentucky – and don't miss what our customers have to say about our fast, professional, high-quality service.
Garage Door Problem #1: The Garage Door Won't Close
You press the button on your keypad or garage door remote, and the door starts to close…but then suddenly stops and reverses, and the light blinks rapidly. This is a critical garage door safety feature for all garage doors installed after 1993, designed to trigger any time there's an obstacle in the garage door's path and prevent injury or property damage. If you're sure there's nothing blocking the way and you're still experiencing this issue, it's likely that the photo eye is dirty, or even out of alignment.
Check the garage door photo eye, and try cleaning the lenses on both sides of the door. Be careful not to scratch the lenses. Use a soft cloth and a glass cleaner that doesn't streak, or a pre-packaged lens cleaner designed for eyeglasses and camera lenses.
If the lenses are clean and the garage door still won't close, the next thing you'll need to do is check the garage door eye alignment. The eyes should be pointing in the same direction and the same exact angle. If they don't "see" each other, they're designed to assume there's an obstacle blocking the garage door. Use a measuring tape or ruler to ensure they're at the exact same height, and use a level to ensure they're at the same angle. If they're not, adjust them accordingly.
If the lenses are clean and the garage door eyes are aligned and the garage door still won't close, contact Overhead Door Company of Northern Kentucky. We service all areas of Greater Cincinnati and Northern Kentucky, from Florence to West Chester to Anderson and Hyde Park.
Garage Door Problem #2: The Garage Door Won't Open
You pull into your driveway at the end of a long day, push the button on your garage door remote, and…nothing happens. You push it again. Still nothing. There are a couple of things that could be wrong, and we'll start with the simplest: there's something blocking the antenna inside the garage. You should see the antenna hanging down from the motor inside your garage door; visually inspect it to be sure there's nothing obstructing it, or that it's been damaged somehow. If the antenna is clear and appears to be in good condition, it's time to move on to step 2.
The next likely issue is that the batteries in your garage door remote are dead. There's an easy way to check this: If the exterior garage door keypad or the transmitter on the wall inside your garage still open the door, it's likely you just need to change the garage door remote's batteries. This is easy to do in most cases, though some garage door remotes are screwed in to keep them secure and require a screwdriver to complete the task. Also, if you have more than one remote for your garage door, it's a good idea to replace those batteries as well since they were likely installed at the same time. If you need to replace the battery in the remote control, visit the showroom at Overhead Door Company of Northern Kentucky. We keep all the different styles, sizes and model remote control batteries in stock. We can test your remote control, replace the battery, ensure that the remote control is working properly and provide you with the required programming instructions, if necessary. If you wish to replace the battery your self - no problem. You can order replacement remote control batteries online at www.OverheadDoorPartsOnline.com.
Another potential issue that would prevent your garage door from opening is a bigger problem: the garage door springs may be broken or damaged. All garage doors include counter balance springs and these wear over time as they lift the weight of your garage door. You might notice if one breaks (it makes a loud noise, but if you're not home, you'll miss it). A remaining spring may still function, though you might notice slower performance or a sudden increase in the amount of noise the garage door makes as the remaining garage door spring struggles to lift the weight of the door.
If you know or suspect the garage door springs are broken or damaged, we strongly recommend calling a professional – replacing garage door springs requires precision, and if it's done incorrectly, can cause serious personal injury and it may compromise the door's safety as well as the security of your home. Contact Overhead Door Company of Northern Kentucky and our team of highly-trained professionals will replace your garage door springs and get your garage door functioning like new again.
Regardless of the issues you're experiencing with your garage door, garage door opener, garage door track or garage door spring or any other garage door accessories, Overhead Door of Northern Kentucky is your source in Greater Cincinnati and Northern Kentucky – from West Chester to Mason to Loveland to Hyde Park to Anderson and every neighborhood in between, we can help solve your garage door issues, enhance your home's value and security, and make life more convenient for you and your family.
Contact us today to schedule a service call, get a free estimate, or explore our huge selection of beautiful replacement garage door design options.