9 Common Garage Door and Garage Door Opener Issues and Solutions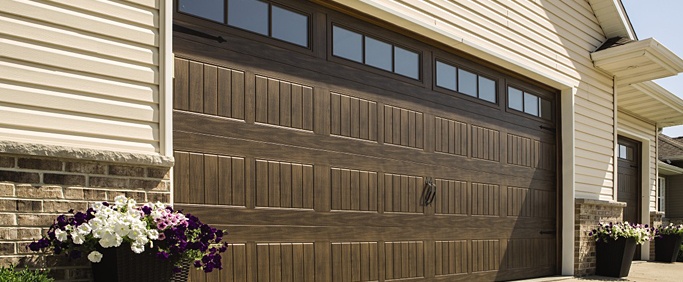 Your garage door works hard every day protecting your vehicle, your possessions, and the overall security of your home. Like any equipment that's in constant use, eventually your garage door will need service, repair, or even replacement. Here are 9 common garage door and garage door opener issues, and how to tell if they indicate a need for repair or replacement. If you're experiencing any of these issues with your garage door in Mason, Loveland, Hyde Park, or any other area of Greater Cincinnati or Northern Kentucky, Overhead Door of Northern Kentucky can help you find the right solution for your garage door issues.
1. Failure to Open or Close. Closing your garage door when you leave your home and at night is important to home security, so if your garage door fails to open or close properly, it's an immediate issue. It could be a warped or damaged track, a malfunctioning garage door spring, or an issue with your garage door remote or keypad. If your garage door is stuck in the open position, there's a risk that it may close suddenly, causing injury or damage. Often, a professional service call is all it takes to get your garage door functioning smoothly again.
2. Outdated Technology. Modern garage doors offer great new technology that's not available in older models; one of the best improvements in years is the addition of a battery backup for your garage door. During a power outage, a motorized garage door without battery backup must be opened and closed manually, which typically requires using an emergency release. If you've ever had to do this, you know what a cumbersome process it can be – and how challenging it can be to reset the garage door once the power comes back on. A battery backup for your garage door eliminates this issue once and for all, adding convenience and even improved safety. Beyond battery backup, other garage door accessories with newer technology include outdoor keypads, remote operation, reduced noise through ultra-quiet operation, and even improved security. Adding new technology may require a garage door replacement.
3. A New Purpose. More and more garages are being converted into additional living and entertaining spaces, with furniture, electronics such as large-screen TVs and gaming systems, and other comforts of home. A new garage door can help make your converted space work better, with improved insulation, quieter operation, added security, and enhanced visual appeal.
4. Increased Utility Bills. If your heating and air conditioning costs suddenly spike, your garage door could be part of the problem. Aging insulation or weather-stripping can reduce your garage door's ability to regulate temperature, resulting in higher costs. If you suspect your garage door may be contributing to increased utility bills, contact Overhead Door of Northern Kentucky to schedule a service call. We can help you determine if your garage door needs to be replaced, or if it's simply time for a garage door repair to get your heating and cooling costs under control.
5. Reduced Visual Appeal. Weather damage from hail or high winds, inadvertent collisions, and even kids tossing balls at the house can result in dents and other damage that reduce your home's curb appeal. Since a garage door can take up to 30% of your home's façade, it has a major impact, and can even reduce your home's value. Depending on the extent of the damage, it may be possible to repair your garage door. In other cases, a new garage door may be the best solution. Overhead Door of Northern Kentucky offers expert repair and an extensive collection of design options that suit the look and feel of your home.
6. Slowed Operation or Response. Garage doors are heavy and powerful, and they're designed to move somewhat slowly – steady operation helps keep your family safe. But if you notice slowed performance in your garage door, or if there's a significant delay between the time you hit the button to open or close the garage door and when garage door operation actually begins, it may be time for a new garage door. It's also possible that only the garage door opener or garage door remote needs to be replaced. Once again, a professional consultation can help you determine the best course of action for your home's safety, security, and convenience.
7. Unexpected Noises. Even though today's garage doors feature ultra-quiet operation, older garage doors can be fairly noisy. Regardless of where your garage door falls on the noise spectrum, it's important to identify the source of any new noise your garage door may be making. If you notice grinding, grating, whining, or squeaking, it's time for a service call from a professional garage door repair and replacement company. An expert technician will be able to diagnose the problem and recommend garage door repair or replacement as appropriate.
8. Safety Malfunction. Garage doors are powerful and heavy, and they can cause significant damage or injury. (That's why they're designed for steady motion, as noted earlier in this article). Even older garage doors are equipped with important safety features that will stop or reverse operation when an obstacle is detected. If your garage door's safety feature fails to operate even once, it's critically important to have it serviced. In many cases, a service call or garage door repair resolves the issue and ensures your home's safety. In some cases, the garage door opener or garage door remote needs replacement – or your best option may be a new garage door.
9. Increased Maintenance. If you're making service call after service call, it may be more cost-effective to replace the garage door altogether. A new garage door offers a lot of value – in addition to improving curb appeal and home value, new garage doors provide quieter operation, newer technology, and increased convenience. Contact Overhead Door Company of Northern Kentucky to schedule a service call or estimate, and we'll help you ensure your garage door is doing everything it needs to do to protect your home and your family's safety.
Regardless of the issues you're experiencing with your garage door, garage door opener, garage door track or garage door spring or any other garage door accessories, Overhead Door Company of Northern Kentucky is your source in Greater Cincinnati and Northern Kentucky – from West Chester to Mason to Loveland to Hyde Park to Anderson and every neighborhood in between, we can help solve your garage door issues, enhance your home's value and security, and make life more convenient for you and your family.
Contact us today to schedule a service call, get a free estimate, or explore our huge selection of beautiful replacement garage door design options.