If it is time to sell your home or make improvements this summer, it is recommended by Remodeling magazine to replace your garage door. Replacing your garage door will improve the curb appeal and increase the value of your home. Overhead Door Company of Northern Kentucky ™ provides garage doors that will suit any architectural style, from modern to contemporary to traditional. A new, unique garage door can make your home stand out or create a great first impression for a potential buyer.

Improving the curb appeal of your home can be as simple as updating your garage door to complement the exterior of your house and help you stand out. Refreshing your exterior is often a home improvement project that is ignored, but investing in a new garage door is an affordable way to make sure the outside of your home reflects the inside.
Updating your garage door was recently rated the #1 home improvement project in the 2019 Cost Vs Value Report completed by Remodeling magazine, because of its return on investment (ROI) compared to other home related projects. It costs less than most remodeling projects, is completed in one day and increases the value of your home. On average, homeowners nationwide can obtain up to a 97.5% ROI for their garage door replacements. In the Greater Cincinnati area, homeowners can expect as much as a 129.7% ROI when replacing their garage door.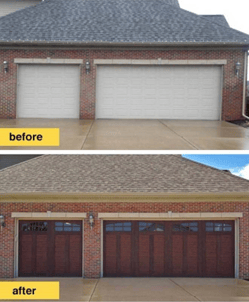 Beyond increasing your home's resale value and improving curb appeal, replacing your garage door ensures the garage door, garage door opener, remote control, key pad and other garage door accessories are operating in peak condition. It is important to have a functioning garage door for the convenience, safety and security of your family. You can protect your family while increasing the value of your home.
Overhead Door Company of Northern Kentucky ™ provides a wide variety of new and replacement garage doors with designs to complement your home's look. Providing professional garage door installation, replacement, service and repair for communities throughout Cincinnati and Northern Kentucky, including Anderson, West Chester, Hyde Park, Loveland, Mason and many more. Schedule a free estimate or a garage door service call today, and take the first steps to improving your home's curb appeal and value.
Contact your garage door specialists at Overhead Door Company of Northern Kentucky ™ to learn more about your options!