Overhead Door Company of Northern Kentucky™ has a new compact, quiet and powerful garage door opener. The Infinity™ 2000 will bring convenience to your family by saving space with a flexible design, durable performance, wireless upgrades and LED light features. This wall mount garage door opener can be customized to fit your needs with battery backup options and integrated WiFi connectivity capabilities. Its innovative side-mounted design is perfect for garages with limited headroom or confined space.
The Infinity™ 2000 wall mount garage door opener has many features including: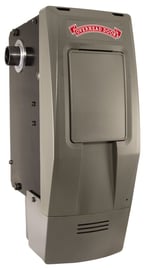 Powerful performace – This motor operates with variable speeds for soft start and stop; providing smooth, quiet operation and less wear and tear on your garage door.
CodeDodger® access security system – This system selects a unique code each time a remote or wireless keypad is used. Thus, helping prevent piracy of the radio signal for optimal security.
Easy programming – Quick and simple setup for fast installation.
Self-diagnostic Safe-T-Beam® system – When objects pass through the infrared beam, the door automatically stops closing and then reverses.
Wireless wall console – No wiring required for operation with a delay button to postpone door movement up to 30 seconds.
Lighting system – LED light fixture provides the flexibility to place the fixture anywhere in your garage.
Compatible with both HomeLink® and Car2U® systems – No additional external repeater kit or compatibility bridge needed.
Battery backup – This feature provides peace of mind, allowing the opening and closing of your garage door during a limited power outage.
Smart garage door opener integrated with OHD Anywhere® – Remotely monitor and control your garage door from almost anywhere with your iOS or Android smart device.

Ability to monitor (open or closed) and change the position of your garage door
Allows multiple user accounts to give others virtual access to your garage door
Ability to know if an authorized user is operating the door with the OHD Anywhere® app
Schedule features allow you to program door operation
Maintains access history report for each opener
The Overhead Door® Infinity™ 2000 is the perfect upgrade for your garage. Bring convenience and safety to your family with ease by enhancing your garage door opener. Partner with the Overhead Door Company of Northern Kentucky™ to install your new Infinity™ 2000 garage door opener, and make your life easier.