Garage Doors
Garage doors are constantly evolving and changing to meet the needs of homeowners. The look and feel of your garage door should compliment your home and bring your vision to life. Overhead Door has designs, colors, features and hardware to match all your needs. Here are some of the latest garage door models that are designed to increase the value and improve the curb appeal of your home.
Thermacore® – New Modern Metallic Finishes and Panel Designs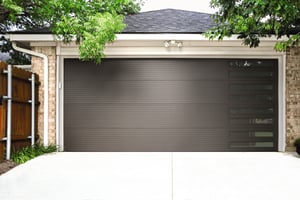 Overhead Door Thermacore® insulated steel garage doors are the ideal choice for maximum thermal efficiency and are now available in new metallic colors and panel designs. The new colors that are available include; Black Frost, Silver and Dark Bronze. The new panel designs feature a microgroove finish and a smooth flush finish. These designs provide a striking light and shade effect unique to the Overhead Door Theramcore® Collection. To compliment these new sleek colors and panel designs, we now offer narrow aluminum window frames. These windows are available in various single and double configurations to further improve the curb appeal of your home.
Envy™ Collection – Sleek, Aluminum Glass Garage Doors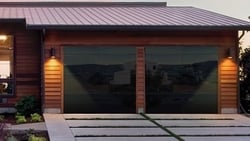 This aluminum full-view door, featuring a frameless design, will be the talk of the neighborhood. The Overhead Door Envy™ Model 956 features glass panels, mounted on top of an aluminum structure to create a completely sleek and modern look. ​​Since each door is unique and custom built, you can choose from 5 different types of glass and a wide variety of frame colors that will best compliment your home.
Garage Door Openers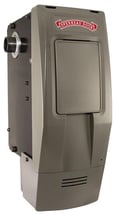 Garage door openers are one of the most-used products in any home. They provide safety, convenience, reliability and help support your busy lifestyle. When it comes to choosing a garage door opener, make sure you're choosing the right one to meet your needs.
Infinity 2000 Wall Mount Opener
The Infinity™ 2000 is a quiet, powerful and compact wall-mount opener with OHD Anywhere® Wi-Fi and battery backup capabilities. Its unique side-mounted position is perfect for garages where the headroom is limited or space is constrained. The motor is powerful and capable of lifting most residential doors.
Home Automation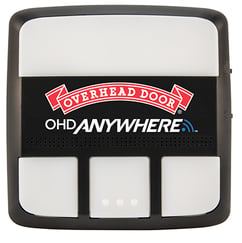 Overhead Door Company of Northern Kentucky™ offers smart home technology products and accessories that will allow you to integrate your garage door system with other home automation software and apps. The Overhead Door OHD Anywhere® system allows you to operate, track and schedule the operation of your garage door from virtually anywhere in the world with your smart phone or tablet. OHD Anywhere® can be installed on an existing garage door opener or can be integrated with the installation of a new opener and is compatible with Google Home and Amazon Alexa. Overhead Door smart garage door openers are also compatible with other home automation platforms such as Control4 and Yomoni. Home automation platforms like Yomoni, allow you to control your OHD Anywhere® garage door system along with other smart home products using one single app.
The Overhead Door Company of Northern Kentucky™ always offers the newest products on that market. If you have any questions regarding these new products and how they could work in your home, give us a call at 859-341-6646 or 513-347-3667.